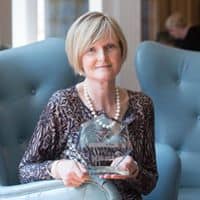 "Don't be afraid to sell yourself!"
As the deadline for entries for the 2017 Network Cork Businesswoman of the Year Awards looms large on Friday 21st April, 2017, our very own Teresa O'Sullivan who won Businesswoman of the Year 2016 in the Emerging New Business category reflects on what winning the award meant to her:
"I was personally honoured to win and it gave great pleasure to my two business partners, Gráinne O'Donovan and Aoife McCarthy.  It was a very positive endorsement of our legal practice at such an early stage of our business which we had started in October 2015.  This was not just a win for me but the three of us as a partnership."
The publicity surrounding her win was also helpful to our business in that it raised the profile of Douglas Law.  It also generated a lot of goodwill as we benefited from being associated with such a positive news story.
Teresa highly recommends other businesswomen taking the time to enter the Network Cork Businesswoman of the Year Awards and says the application process itself was a very useful tool for analysing our business at that time.
"Completing the application form led us to review our business and helped us to set our goals and to refine our message.  It also helped us to identify our unique selling point.  The feedback from the process and in particular the interview in Dublin, when I went on to compete in the National competition, was a ringing endorsement of us as three women in a legal practice with a business focus.  The fact that I went on to get a highly commended award at National level was a huge achievement after such a short time in business."
Teresa's advice to anyone considering entering the Awards is simple "Don't be afraid to sell yourself!"
Remember the deadline has been extended to Friday 21st April, 2017.  The link to the application form is here http://www.networkireland.ie/awards
Best of luck!